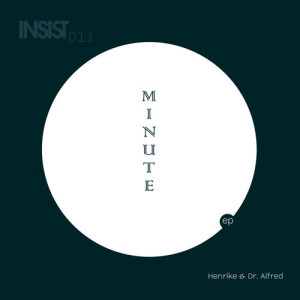 Die Macher von Insist Music aus Wiesbaden, Dirk Redmer aka Schnick S. und Patrick Kunkel, melden sich mit einem frischen Release zurück.  "Henrike & Dr. Alfred – Minute EP" ist seit dem 16.02.2015 erschienen und reiht sich thematisch perfekt in die bisherigen Releases von Insist Music ein.
Alfred was born in Cuba, doctor by profession and freelance dj, started in music as a radio broadcaster in 1990. He became interested in the electronic scene in Madrid in 1999, initially influenced by the "American House" to the present which combines styles as: Deep, House, Tech-House & Techno. Started DJing in Madrid in the year 2001 and he has played at some of the best clubs in Madrid, Malaga, Seville, Ibiza, also in the 'Sonar Off" at various locations in Barcelona and ADE – Amsterdam with Monza Ibiza Records Showcase.

It has shared cabin with DJs like Uner, Cristian Varela, Wally Lopez, Michel Cleis, Hollen, Okain, Ismael Rivas, Danny Serrano, Federico Grazzini, David Herrero, Anthony Collins, Kabale und Liebe, Federico Molinari, Livio & Roby, Ramiro Lopez, Leix, Oscar de Rivera and more. It has shared cartel and events with: M.A.N.D.Y, Sasha, Marc Antona, Steve Lawler, Coyu, Leon, Mendo, Nima Gorji, Los Suruba.
As a producer, since 2009, has signed joint work with spanish producers such as: Ismael Rivas, Javier Gonzalez, Afrobeat, Alvaro Medina, Voltereto, 2nd Noise and Henrike, who regularly works on various projects. Since 2014 he is working as a solo producer.

He has released on labels like: Natura Viva Music, Monza Ibiza Records, 2nd Born Records, Insist Music, Monique Speciale, Not For Us, Shibiza Recordings, Desertica Records, Jekos Lab, Tecnove Records, Mr. Jack, Automatica Records, Swat Rec, Doppelgaenger & more.

He is currently the Assistant Manager of Monza Ibiza Records: Javier Gonzalez, actively participating in the music management label.

Henrike Lopez, aka Kike Boy, born in the capital of Spain began his career as a DJ in the late 80's early pioneer in big raves and techno music event, and his first productions are Hard Trance style.

In 1995 it passed to progressive house, and this is where a real name reputed national and international level is done, especially when produced the song "The Night Train" by David Penn for Kadoc (Portugal) nightclub.

In 1998 he joined TV People! and make the theme Gangs's Peter, Ruben G.

In 2005 produced "House rayante" Juan Iborra and in 2006 "Wagadooga Shake" to Watch TV & The Primetimes.
Since 2001 he is resident in Ohm Dance Club Madrid. His musical contribution has been one of the key pieces to put on the map as a reference Ohm nationwide. He has also played at numerous prestigious international sites such as; Midem (Cannes), Midem Asia (Hong Kong), Ruby (Europride06-London), Goa (Madrid), Florida 135 (Fraga), Muccassassina (Rome), Loveball (Barcelona)
In 2012 and the name "Henrike" and together with Dr. Alfred produccción start a project with a very definite style which is now published in 26 major label releases.

Currently a resident of Madrid Weekend.
Kaufen: Beatport